School is now firmly back in session and, as you see the bright yellow school buses carting children to and from class every day, you might have wondered: how do schools in your neighbourhood effect house prices?

The quality of the local school district and school rankings actually have a significant influence on market price. In this month's newsletter, we'll explore the relationship between schools and real estate value — so you'll know how to make a good choice.

In other big national news, as you may have heard, the Bank of Canada is once again raising interest rates. We'll tell you what this means for those of you with mortgages. Also, have a look at our monthly analysis of market reports and analysis for a deeper overview of what is happening in the world of real estate.

It's not all doom and gloom, though. If you are looking for something fun to do this month, we have put together a list of events happening around the city for your enjoyment.

As always, I enjoy providing you with both the information and the support you need to make the right decisions. If you, your friends or family are looking to buy or sell real estate, I am delighted to help.
The relationship between the quality of a school district and real estate prices in the neighbourhood is a bit of a "chicken-and-the-egg" question.

The highest-ranking school districts tend to have higher house prices than less sought-after districts. At the same time, more affluent homeowners often live in more popular school districts. It's not always clear which is the motivating factor: do school districts influence house prices or vice versa?

Regardless of which came first, at the end of the day, the fact remains: schools that have higher rankings are, on average, in neighbourhoods with higher real estate values. According to a survey by the Ontario real estate brokerage TheRedPin, homeowners pay a premium of between 20 to 36 per cent for living in proximity to the best schools in Toronto.

Attracting parents
91 per cent of prospective homebuyers said that school rankings were important in their search, according to a survey by Realtor.com®, and 60 per cent of buyers said they would pay above their budget to live in their desired school catchment.

Why are schools so influential?
In large part, it comes down to the age-old search for better education and opportunities for the next generation. Parents will sacrifice a lot to improve their offspring's future and a higher-ranking school is part of that.

It's also a matter of convenience. Once you have your heart set on a school, it's a huge time-saver to live a bus ride or walk away. The same Realtor.com® survey found that more than half of buyers are willing to give up other comforts – such are more room or proximity to shopping centres – in exchange for living in the right school catchment.

All this, as a total, means there is a huge demand for family homes in certain areas because of school rankings. Even for homeowners without children, a good school is typically seen as a sign of a strong, stable community — a good thing for house prices for everyone who lives nearby.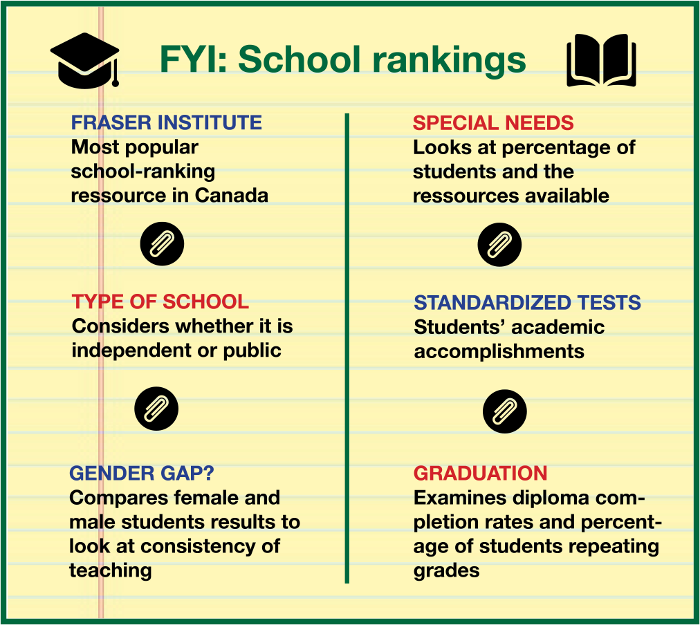 The Bank of Canada hiked interest rates twice this summer and the increases come at a time when many Canadians are struggling to pay off debt.

First, in July, the bank announced a raise from 0.5 to 0.75 per cent and then, at the beginning of September, hiked rates again to a full one percentage point. A report by TransUnion last year estimated that if interest rates were raised by one percentage point, 700,000 Canadian households would face serious financial ramifications.

Those most affected by the interest increases are those paying back debt — such as Canadians with mortgages. According to Scott Hannah, the president and CEO of the Credit Counselling Society of British Columbia, new homeowners who have just taken out a large mortgage are the most vulnerable to the changes.

His recommendation is to try to pay off debts as quickly as possible to avoid future interest hikes or, in the case where that is not possible, to try to switch to a fixed-rate mortgage to mitigate against economic ups-and-downs.

After the latest hike, the Forum Poll found that a third of Canadians fear the proposed change will negatively impact their finances — especially those in British Columbia, Alberta and Ontario.

The bank's announcement has been met with vehement criticism, especially as the Canadian dollar continued to slip, and some experts say the bank may well pause the interest rate hikes for now. Others, however, are adamant that the rises will continue and that it is up to individual Canadians to do the best they can to safeguard their finances.

The Bank of Canada is expected to finalize its plans in the coming weeks but, even if the most recent spike is held off, that will not necessarily mean an end to raising rates for the year, experts say.